It's March Madness time again and if you are courting a young lady who doesn't understand basketball (read: is alienated because they never call traveling,) then it's time to engage this young lady in a different tournament.  You need to gather and select the best of a different field, one that a lady will be unable to resist, and then sit with your arms about her while the two of you watch them fight to the death! I give you … the Sweet Sixteen of cat .gifs!!!! You're welcome.
It's the sweet 16 of cat gifs!  Everybody make some noise! DIVISION 1: DERP DERP DERP CATS
"This is my life now" vs.
"Sharknado"
  VS
Color commentary: Cats trapped in or on curtains are always a very, very tough opponent. Meanwhile, "Sharknado" brings a strong game just because those shark balloons are hilarious. Tough race.
"Get it off, get it off" vs.
"Staying hydrated"
vs.
Color commentary: Cats have that love/hate relationship with water. And who wins? We do.
DIVISION 2: FIGHT SOMEONE YOUR OWN SIZE
"Crouching Kitten Praying Mantis"
vs. "Catzilla"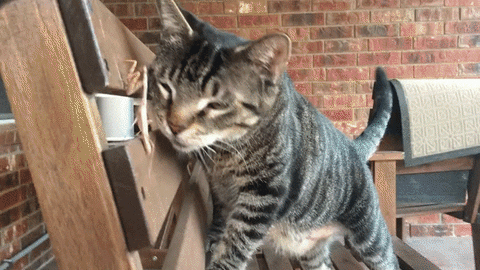 vs.
Color commentary: That praying mantis is fighting better than Conor McGregor in his last fight, but man, how funny is it when cats stand up on their back legs?
"Puss in Boots" vs. "Big Macs"
vs.
Color commentary: Cats. Standing. I know the "Big Macs" gif isn't cats fighting, but I couldn't figure out where else to put it. Why do they have Big Mac boxes on their heads? I don't know. What are they looking at? WHY DOESN'T THAT OTHER CAT CARE ABOUT WHAT THESE CATS ARE WATCHING? I don't know. This is all very confusing and fascinating.
"IT"S SO TINY!" vs. "Kitten Yoga"
vs.
Color commentary: Awwwwwwwwwww. Little baby kitties! So tiny!
"My Binky!" vs.
"Ooooooooo You Make Me Live"
vs.
Color commentary: So tiny! Wook at that baby kitty! And that other widdle baby kitty!  He loves a dog!
DIVISION 4: WE THINK WE'RE HOOOMAN
"It's hilarious if we have human arms"
vs. "G-g-g-g-ghosts?!"
vs.
Color commentary: I think we can all appreciate human editing of cats to act like humans, just as much as we can appreciate cats that walk on their back legs (see above.)
"Cat Clark Kent" vs. "Technology is amazing!"
vs.
Color commentary: Why is that cat wearing glasses?  I don't know, but it's a great disguise. Also, while cats in the toilet is inherently disgusting, cats in toilets are also hilarious. Tough call.
So which of these sixteen superior cat .gifs will move forward to the Elite Eight?
ALL SIXTEEN OF THEM. #catgifswin