Last week we had a tight battle with the Sweet Sixteen of Cat GIFs going at it. Which cat GIF went all … the …. way?  Well, according to a lot of feedback I got, it was "G-g-g-g-ghosts." But then again, a lot of people went crazy for "My Binky." But guys, guys, we all win when it comes to cat GIFs.  Which is why this week is an even tougher competition: what can possibly compete against the majesty of cat GIFs?
Easy answer: pug GIFs.
Pugs are inherently hilarious thanks to their short legs, lolling tongues, and smushy faces. But if you only give them five second loops of their antics?  You have a competition for the ages.
"Running Club"
vs. "Bounce House"
vs.
You think "Running Club" is just going to be a cute puppy running, right, till OUT OF NO WHERE a  second deranged pug face comes into frame. SNEAK ATTACK. "Bounce House" is bringing it though, since that pug just thinks he's a regular bunny.
"No bath for you!" vs.
"Tag Team"
VS.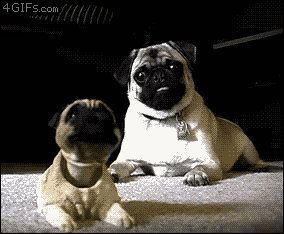 Look, that bathtime pug has a solid shimmy.  But you know what he could use?  A best friend.  Even if that best friend isn't real.
DIVISION II: GRADE SCHOOL GIFs
"Potty Humor" vs.
"Butt Stuff"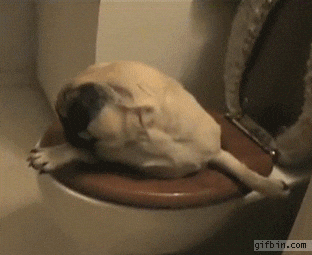 vs.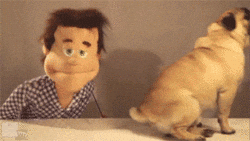 THAT PUG IS STUCK IN A TOILET. If anything can beat a pug stuck in a toilet, it's a puppet biting a pug's butt.
"Mommy Dearest" vs.
"I'm Number One"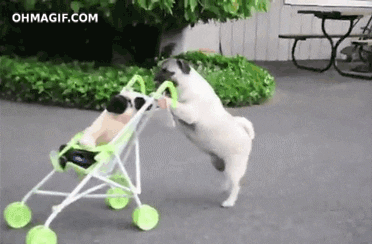 vs.
Awww, that pug thinks it's a mommy hoooman. It's no contest though when a pug has aim like that.
DIVISION III: REACTION PUGS
"W.T.F" vs.
"Fur real"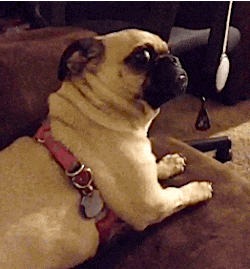 vs.
Is anything more offensive than the incredulity of a pug? No. No, there is not. But there is nothing cooler than a cool pug either.
"Maybe it was … ALIENS?!"
vs. "Whaaaaaaaaa?"
vs.
What is more powerful: three smash cuts pulling into a pug's face or a simple, elegant head tilt?  You be the judge.  But I can't stop laughing at "Aliens?"
DIVISION IV: HUMAN INTERFERENCE
"I Love Lucy" vs.
"Pug-vengers"
vs.
I like that Lucy and the Hulk are putting in equal effort.
"Wampug" vs. "Bantha"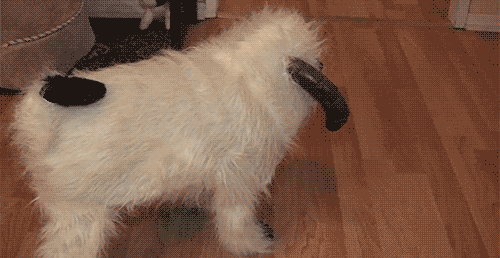 vs.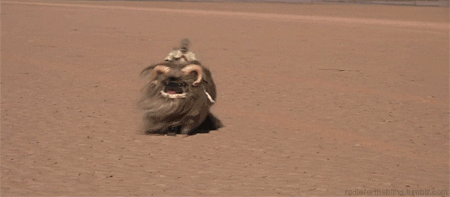 "Star Wars" is back, baby – so do you prefer "Empire" or original "Star Wars"?
As always …
There are no losers in Mel's March Madness, especially not today. Pug .gifs reign supreme, at least until next week.